Welcome to my Gallery of Central Ghana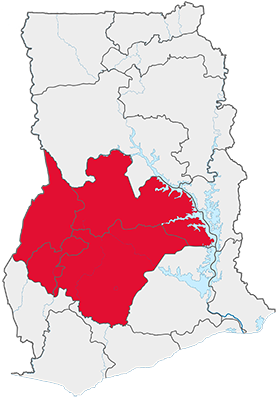 As a central Ghana, I have summarized the Ashanti and the former Brong-Ahafo region in the context of this book. The second was divided into three new regions in 2018: the Bono, the Bono East and the Ahafo region. Previously, the Brong Ahafo covered a considerable area from the Ivorian border to the western bank of the Voltas. At the same time, however, it also had few well-known attractions among Ghanavisitors and so I must also say that I drove through the region much more often than I really put a foot on the ground there. The only exception is the Kintampo waterfall. Without question, however, this corner of Ghana has a lot more to offer, which for me definitely has to be made up for later trips.
Much better known, simply because of the name, is the southern adjacent Ashanti region. It forms something like the heart of Ghana and is at the same time the region of the country with the most inhabitants, all the more so after the latest structural transformation of Ghana. Nearly five million people live here, about a third of whom live in the capital Kumasi. The region is named after the Ashanti people, who have a striking history and have expanded their sphere of influence over many centuries in numerous conflicts and were used by the British to establish their colony on the territory of present-day Ghana. had to be defeated by war. In fact, only about 20% of today's population in the region makes up Ashanti, and the population is mixed. Nevertheless, the cultural influence of this large group is immense, especially in Kumasi everywhere. Also the flag of the Ashanti region depicted on this page shows the typical colors of the ethnic group and the symbol in the middle goes back to the founding myth of the former Ashanti Empire and shows a golden chair as a symbol of the unity of this proud people ( more detailed explanation on p. 146).
Kumasi is The second unofficial capital of Ghana in this region, because it is the heart of the country for the Ashanti and is in no way inferior to Accra in cultural and historical importance – quite the opposite.